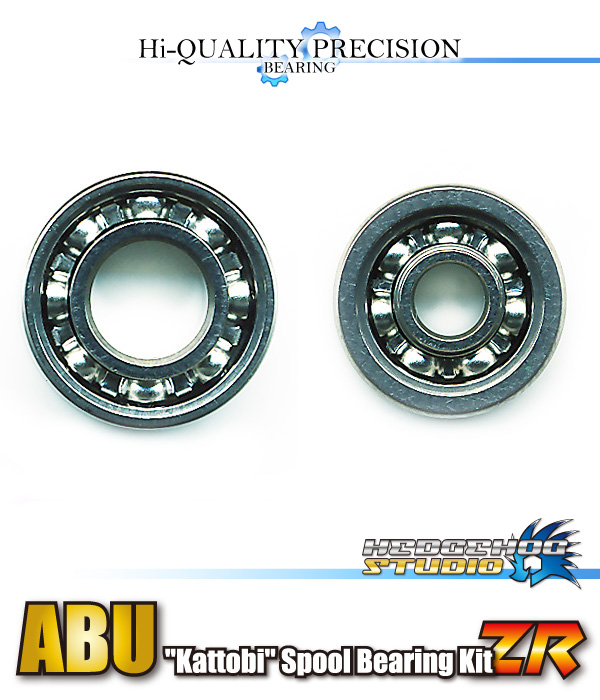 Kattobi ZR Performance Spool Bearings Kit For Abu Garcia, Daiwa & Lew's (1150 / 1030)
Size:
(1150) 5mm x 11mm x 4mm & (1030) 3mm x 10mm x 4mm
Item is new, unused and in original package.
The all-round bearing, with super-long casting specifications, handling lure weight from 5g to 50g or more.
The stable rotary performance achieved by highly precise stainless steel brings the growth of comfortable flying distance.
While being reasonable, the cast feeing is much better than ordinary ceramic bearing use.
It is all stainless steel bearing of HEDGEHOG STUDIO's specialty.
The surface of the bearing is open type and the back side is shield type, which improves the maintenance performance
Fits:
Abu Garcia
■
Revo
  (MGXtreme / MGX / Premier / Inshore / Winch / STX / SX / S )
■
Other
  (Orra SX)
■
MAX 2012 Model
  (Pro MAX / Silver Max / Black Max)
- Japanese domestic market reels -
■
Revo
  (LTX / MGX / LT / ALT)
  (Elite8 / Elite7 / PowerCrank6 / PowerCrank5)
  (Elite / EliteII/ CB / IB / AURORA / AKATSUKI / PowerCrank)
  (STX / SX / S / SKEET REESE)
■
Orra SX
■
SALTY STAGE Revo
  (BJ / Orra RF)
■
MAX 2012 Model
  (Pro MAX / Silver Max / Black Max)
Daiwa
■STEEZ EX 100XS/100HS/100H/100HSL/100HL
■STEEZ 100H/100SH/100HL/103H/103HL
■Z 200HS/200H/200HL
■DAIWA Z 2020H/2020SH
■T3 BALLISTIC T3BLS100H/100HL/100HS/100HSL/100XS/100XSL
■T3 BALLISTIC XS T3BLS100XSLTD-Y/T3BLS100XSLTD-R
■T3 100H Limited Edition Red/Yellow
■T3 1016H-TW/1016HL-TW/1016SH-TW/1016SHL-TW
■T3 MX 1016H/1016HL/1016SH/1016SHL/1016XH/1016XHL
■Trillionaire 100H/100HL
■RYOGA 1016/2020/H/HL/C1012PE-HW/C2020PE-H
■AGGREST 100H/100HL/100SH/100SHL/PE Special
■Millionaire Snakehead&Blacksheep 250/300
■Millionaire CV-Z 300/CV-X 300/Bay area SP 200BB
■SALTIST HRF
■U.S.ADVANTAGE
Lew's
| Lew's BB1 Pro Speed Spool
PS1, PS1HZ, PS1SHZ, PS1HZL, PS1SHZL
| Lew's BB1 Inshore Speed Spool
IS1H, IS1SH
| Lew's BB2 Wide Speed Spool
BB2HZ, BB2SHZ, BB2SHZL
| Lew's BB1 Speed Spool
BB1, BB1H, BB1L, BB1HZ, BB1HZL, BB1SHZ, BB1SHZL
| Team Lew's Pro Speed Spool
TLP1HZ, TLP1SHZ, TLP1HZL, TLP1SHZL
| Team Lew's Gold Speed Spool
TLG1H, TLG1SH
| Lew's Tournament Pro Speed Spool
TP1H, TP1HL, TP1SH, TP1SHL
| Lew's SuperDuty Speed Spool
SD1S, SD1H, SD1SH, SD1HL, SD1SHL
| Lew's Speed Spool Tournament
TS1H, TS1HL, TS1SH
| Lew's Tournament MG
TS1SMG, TS1SLMG, TS1HMG, TS1SHMG, TS1SHLMG
| Lew's Speed Spool
SS1S, SS1H, SS1HL, SS1SH
| Lew's Laser MG
LS1SMG, LS1HMG, LS1HLMG, LS1SHMG, LS1SHLMG
This kit comes with 2 bearings for your spool & installation instructions.
Alternatively, you can download the installation instructions in PDF format below, just click on your correct reel manufacturer.
Abu Garcia
Daiwa
Lew's
The "Kattobi ZR" bearings are precision bearings designed to make your baitcaster cast smoother. Using only quality materials to give you the best fishing experience.
NOTE: Please ensure the correct bearing size before placing an order.